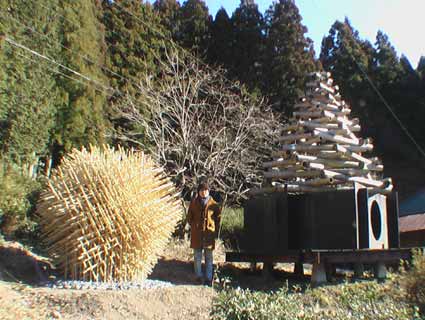 I placed MUMAGARI 600 at my tea farm garden.
It is displayed as a permanent sculpture beside the Bamboo Fibonacci Tea House.

The MUMAGARI 600 consists of just 600 bamboo poles. It stands itself without any support.

I analyzed again the principle of the MUMAGARI last March.
There are some innovations.
It was solved why it can self-stand.
The MUMAGARI 600 is the first stage of this quasi-periodic dynamics.
The sculpture is a proof of the principle.
I should call it "a theorem" rather than "a work".

From now, I will build quasi-periodic labyrinth based on the Penrose Tiling in my huge property as an experimental city design.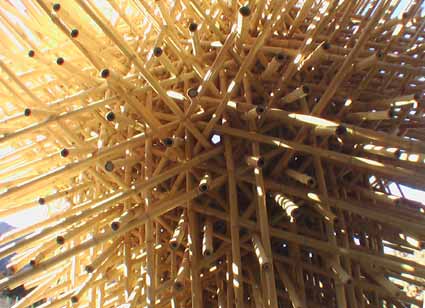 Detail
This arrangement is the Pentagonal Penrose Tiling.

---
Special Thanks
Takaaki Bando
Hiroyuki Hashiguchi
Tomohisa Saito
Hiroaki Shibata
MUSASHINO ART UNIVERSITY

Tomoko Ninomiya
Etsuro Masui

---
Return to Top Page