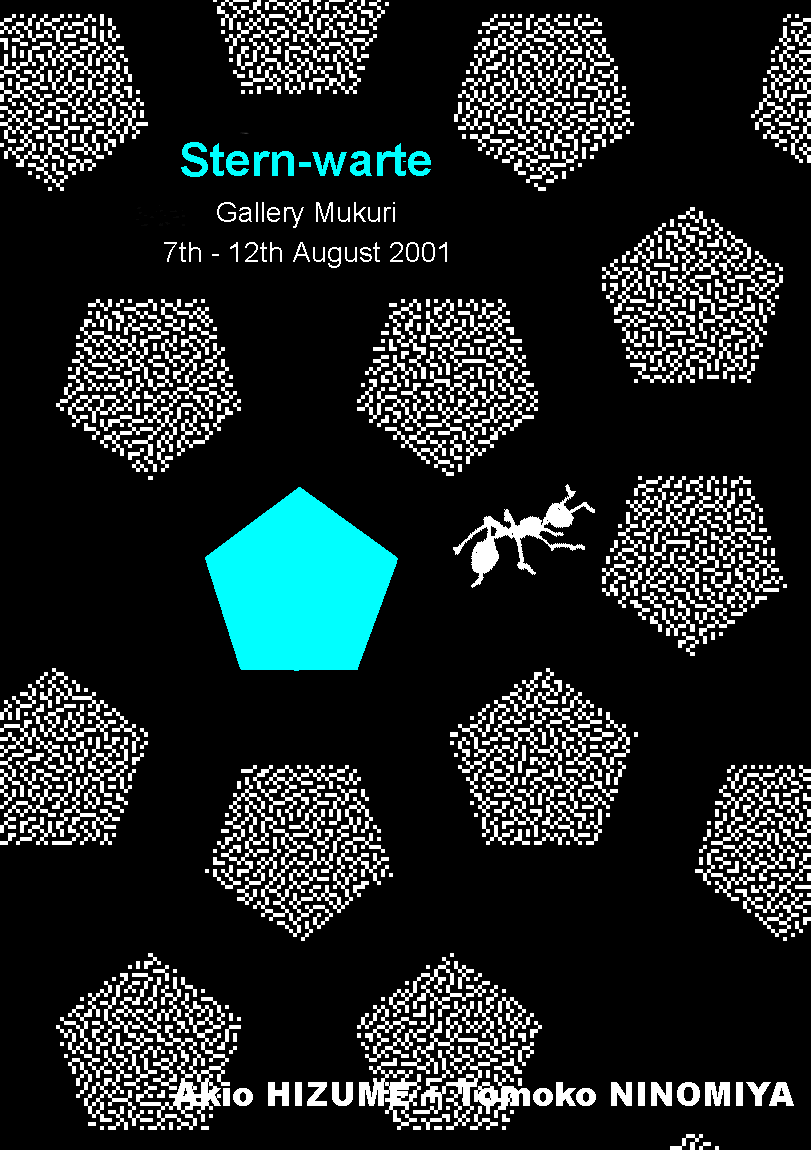 The astronomical memory described on our brain.
This is a way to look for a pregnant middle point.
E X H I B I T I O N
STERN-WARTE

blue celestial body
Akio HIZUME + Tomoko NINOMIYA
7th - 12th August 2001

1:00 pm-9:00 pm

Gallery Mukuri
Sarugakcho 20-4, Daikanyama, Tokyo, JAPAN
TEL:03-5458-6991


Installation of sound and light
We construct Rhizome MANDARA of sand on the floor based on the Penrose Tile.
Please walk around the maze.
Tomoko's objects called "About Dodecahedron" breathe stochastically on each mounds.
Akio's objects called "Pleiades" are hung from ceiling and breathe synchronizing with the FIBONACCI KECAK MUSIC digitally.

AKIO's turn off about clepuscule
TOMOKO's turn on about clepuscule

- - - - - - - - - - - - - - - - - - - - - - -
Akio's Lecture Ā@
Geometry for Freedom
Workshop of Sound and Form
8.10friĀ@7:00pm

Akio's Workshop
Let's make a star crystal
8.11sat 2:00pm-6:00pm

- - - - - - - - - - - - - - - - - - - - - - -

Thanks:
Toji TSUKAGOSHI, Natsuki MATSUMOTO, Yoko KATO, Ichiei Co. LTD,
Kakichi SATO, Tamami TONO, Shoji Yotsutani
Prevous Page
Return to Top Page