STAR CAGE
Girasol Torre
Sunflower Tower in Costa Rica
©2007 Akio HIZUME

August-September 2007
Centro de Bambu
Puerto Escondido, Osa Peninsula, Costa Rica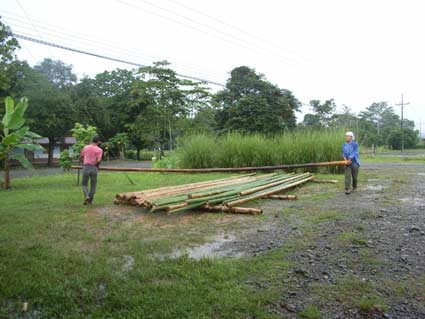 I used 25 bamboo poles whose length were around 7 meters each.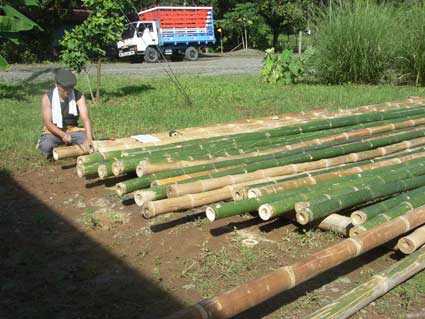 I prepared 70 bamboo parts cutting the bamboo poles precisely by hand saw.
I could not keep up the pace because it was very hot every day.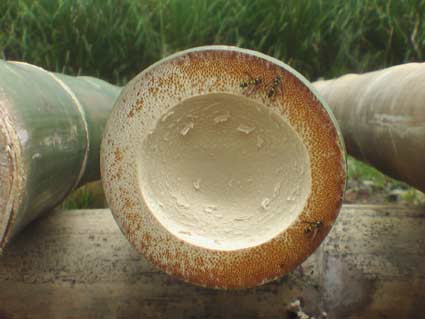 I noticed some bees and fries crowded together on the section of bamboo poles just I cut. I tasted the wet part of the section. It was very sweet.
I suppose we might extract sugar from the Costa Rican bamboo like sugarcane.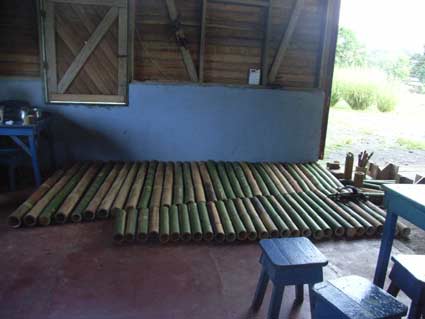 It is not bamboo instrument. It is one set of parts for the Girasol Torre.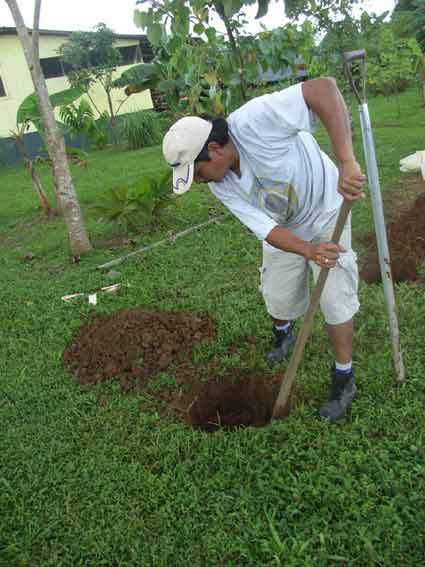 Mr. Concepcion dug five holes whose depth were one meter each for five melina posts.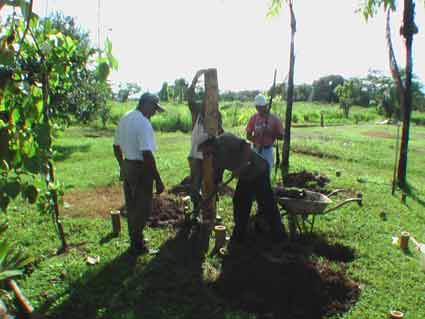 Mr. Alfredo, Mr. Bienvenido, Mr. Concepcion, Mr. Johnny founded the first melina post.
The melina tree is actively cultivated in Costa Rica as plantation. It grows only for 15 years.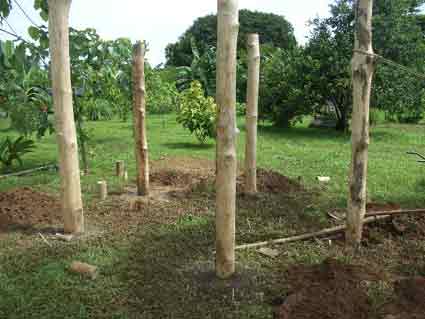 All five posts were founded. The posts did not make regular pentagon. The position was decided by the same principle as the upper structure of Girasol Torre.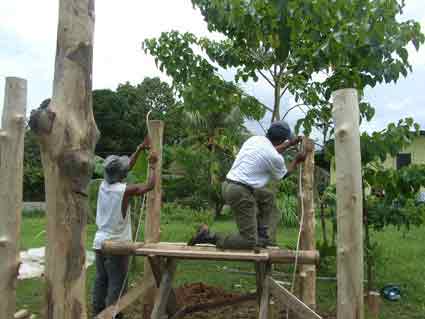 Mr. Alfredo marked level only using a vinyl hose and water.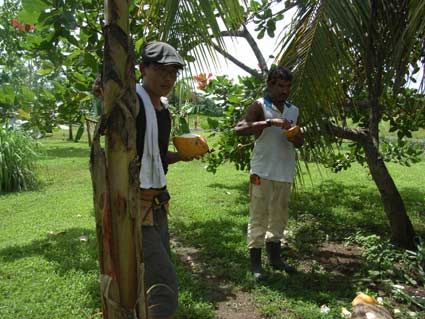 Every day, too much sun. We often had coconut break.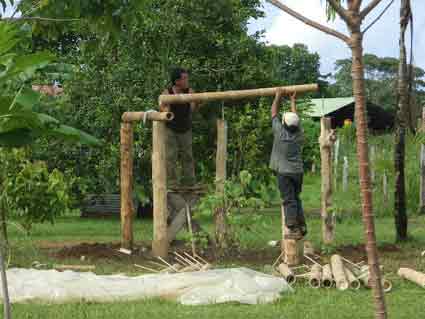 At last, we began to construct the roof.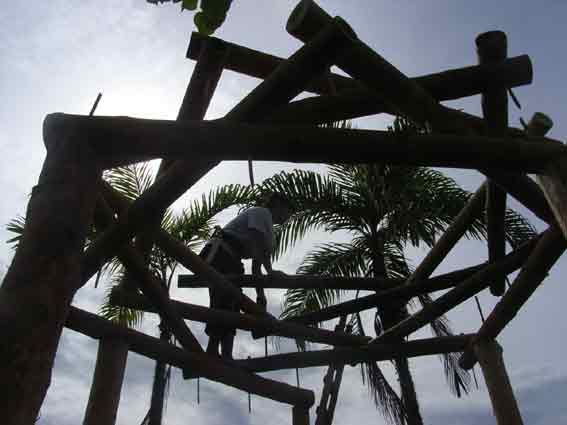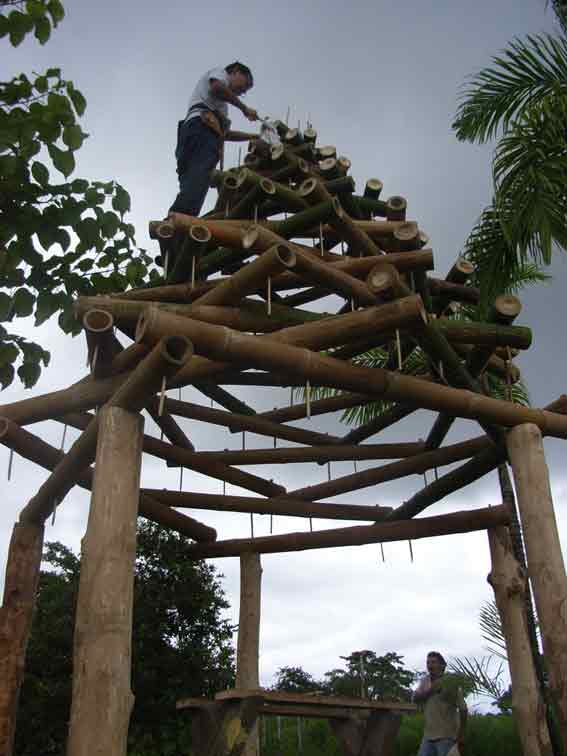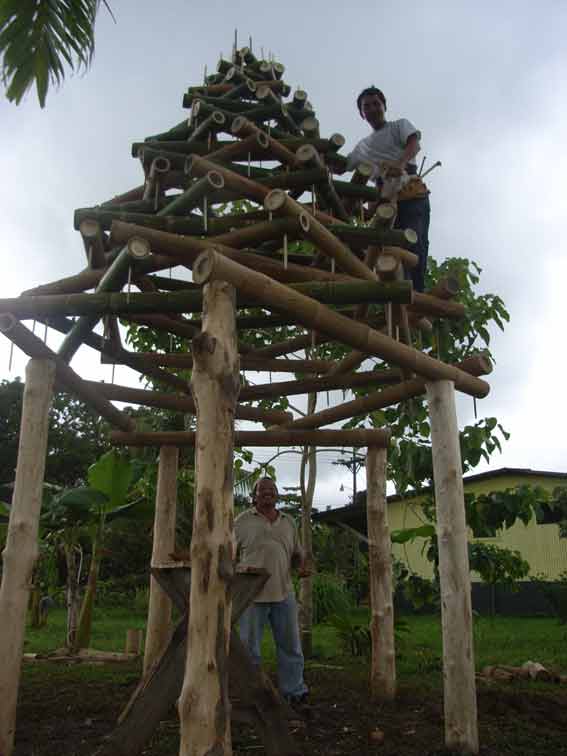 Completion of the roof structure!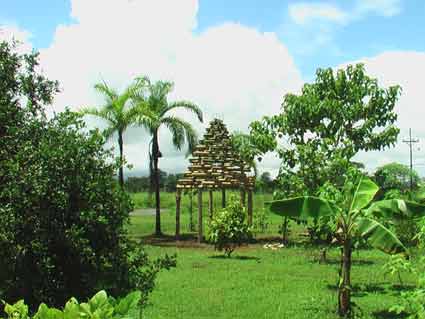 Tropical Fibonacci Tower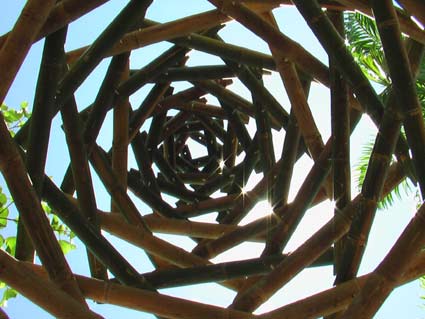 Bottom-up view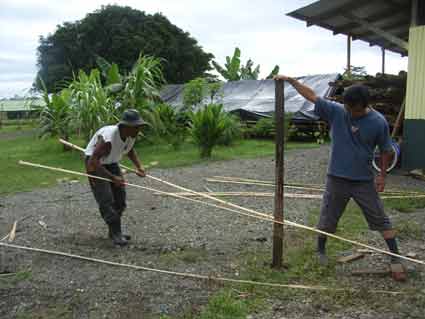 Mr. Bienvenido split five meter bamboo poles for spiral skeleton.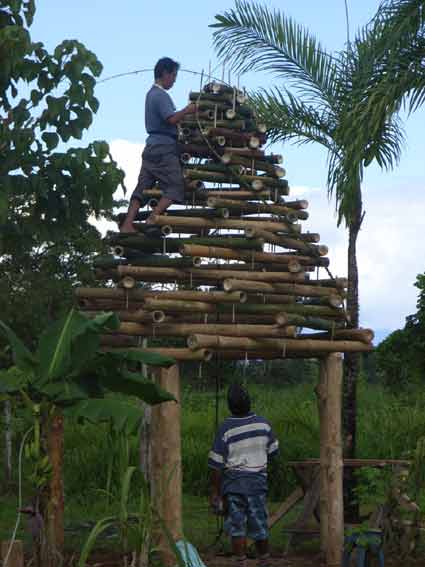 I decided to choose the mod 8 (Fibonacci Number) spiral curves on the roof skeleton for covering roof with palm leaves.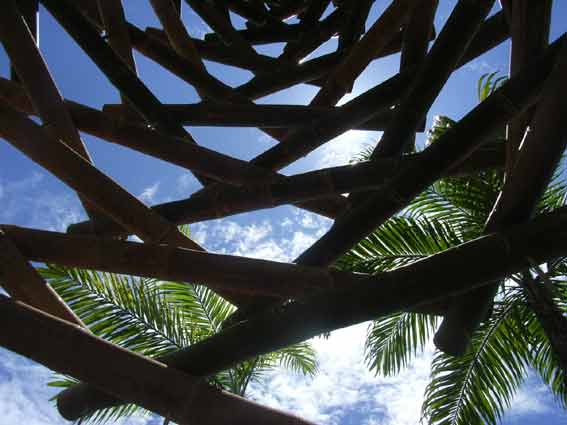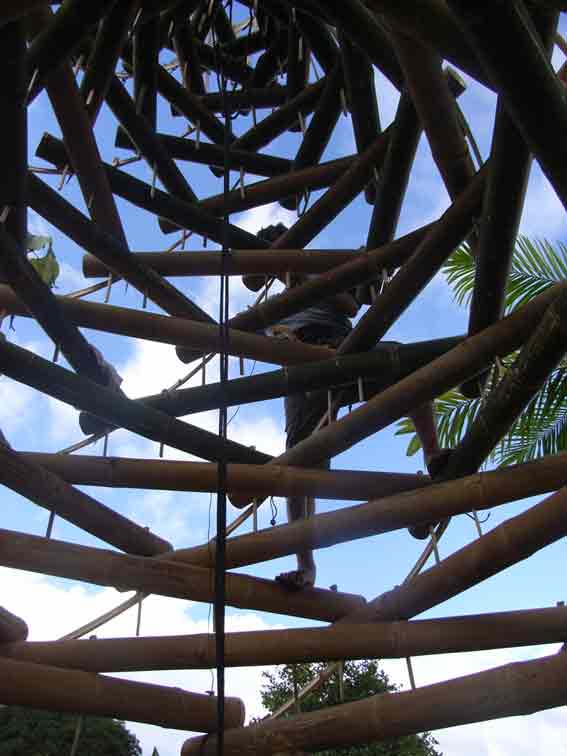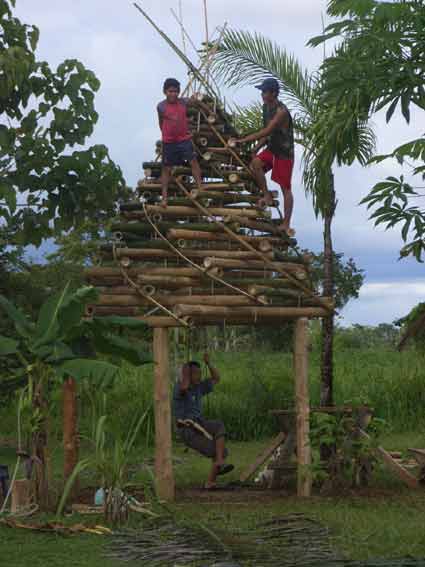 The roof structure is very supple and stable.
The center heavy weight should be suspended from the top.
It makes the whole structure stable like Japanese traditional wooden five-storied pagoda.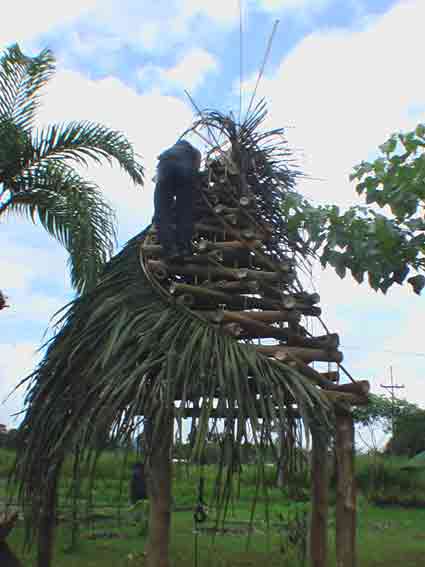 I put palm leaves along the mod 8 spiral curves.
It was my first attempt.
Of course I didn't know if it should work or not.



Last two spirals remain.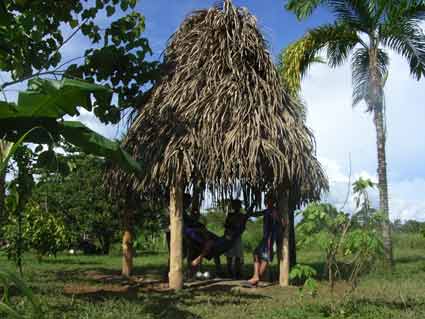 Completion!
It was successful.
I never used any metal material.
This is a genuine sustainable architecture.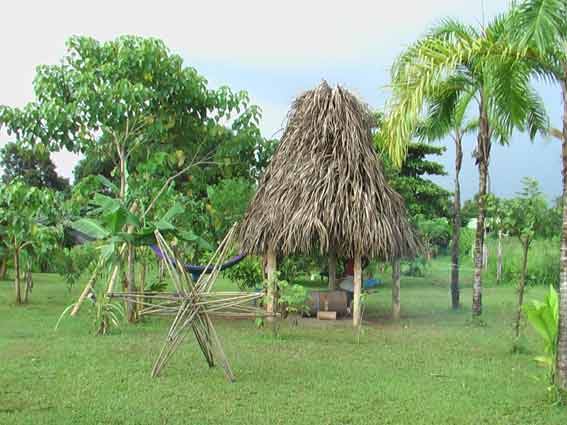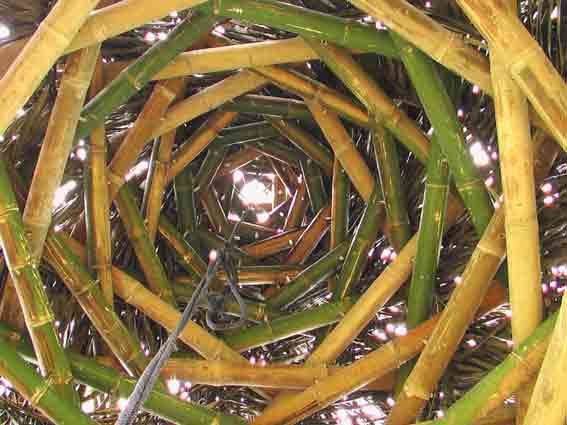 Bottom-up view after covering roof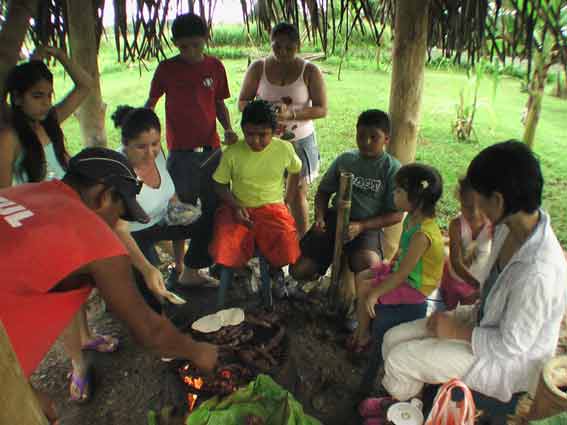 The final day of our visiting in this village, amigos made farewell party.
We barbecued beef, banana, tortilla and boiled yucca (cassava) inside the Girasol Torre.
It was fun. I also ate excellent "ceviche" in this party, which is a marine of raw whitefish.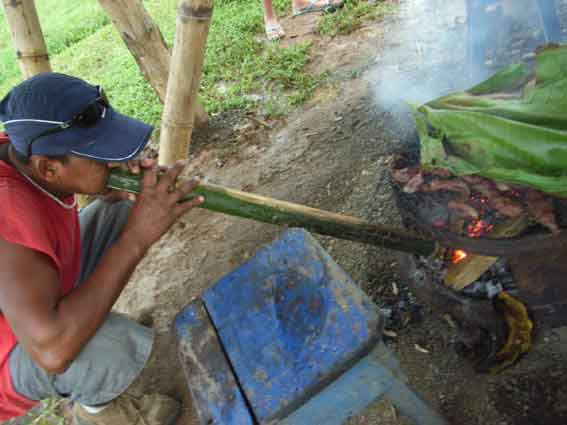 I made HI-FUKI- DAKE, that is, Japanese traditional bamboo bellows. Everybody liked it.
I also instruct Japanese traditional knot technique called "OTOKO-MUSUBI" and "NAN-KIN-MUSUBI" to Mr. Conception and Mr. Johnny.
This knot technique might also be used by workmans in Costa Rica in the future.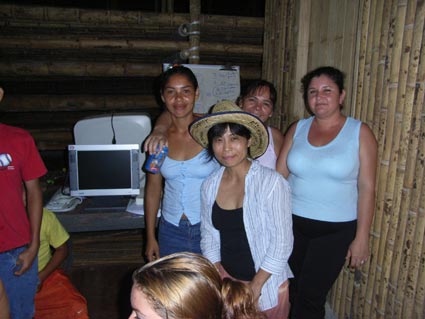 Amigos gave a beautiful sombrero to Tomoko.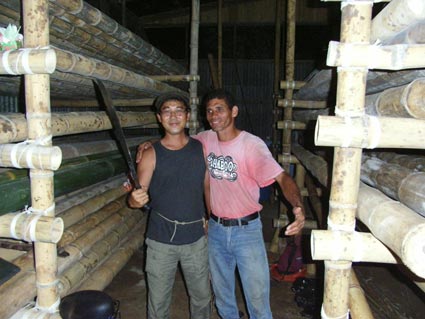 Amigos also gave me a Machete which is typical big hatchet in Central America.
I became a Costa Rican guy.
---
Organizer
Steven Bell (N.P.O. Friends of the Osa)
Alfredo Quintero (N.P.O. Friends of the Osa)

Amigo
Concepcion Lopez Diaz
Bienvenido Quintero
Johnny Serracin

Special Thanks
Dennis Vasquez (N.P.O. Friends of the Osa)
Gioconda Jimenez (N.P.O. Friends of the Osa)
Paco

Assist and Photograph
Tomoko Ninomiya

Supported by



---
Return to Top Page